FLOATING GARDEN
By Chris Kwok
Country : Canada
Category : 'Fresh Flavours' of Futropolis
Number of portions :  10
Chocolate Bergamot Cremeux
Sea Buckthorn Berry Jelly & Gel
Shortbread Crumble
Crumble Crust
Cocoa Nibs Microwave Sponge
Ghana Chocolate Sauce
Montage / Assembly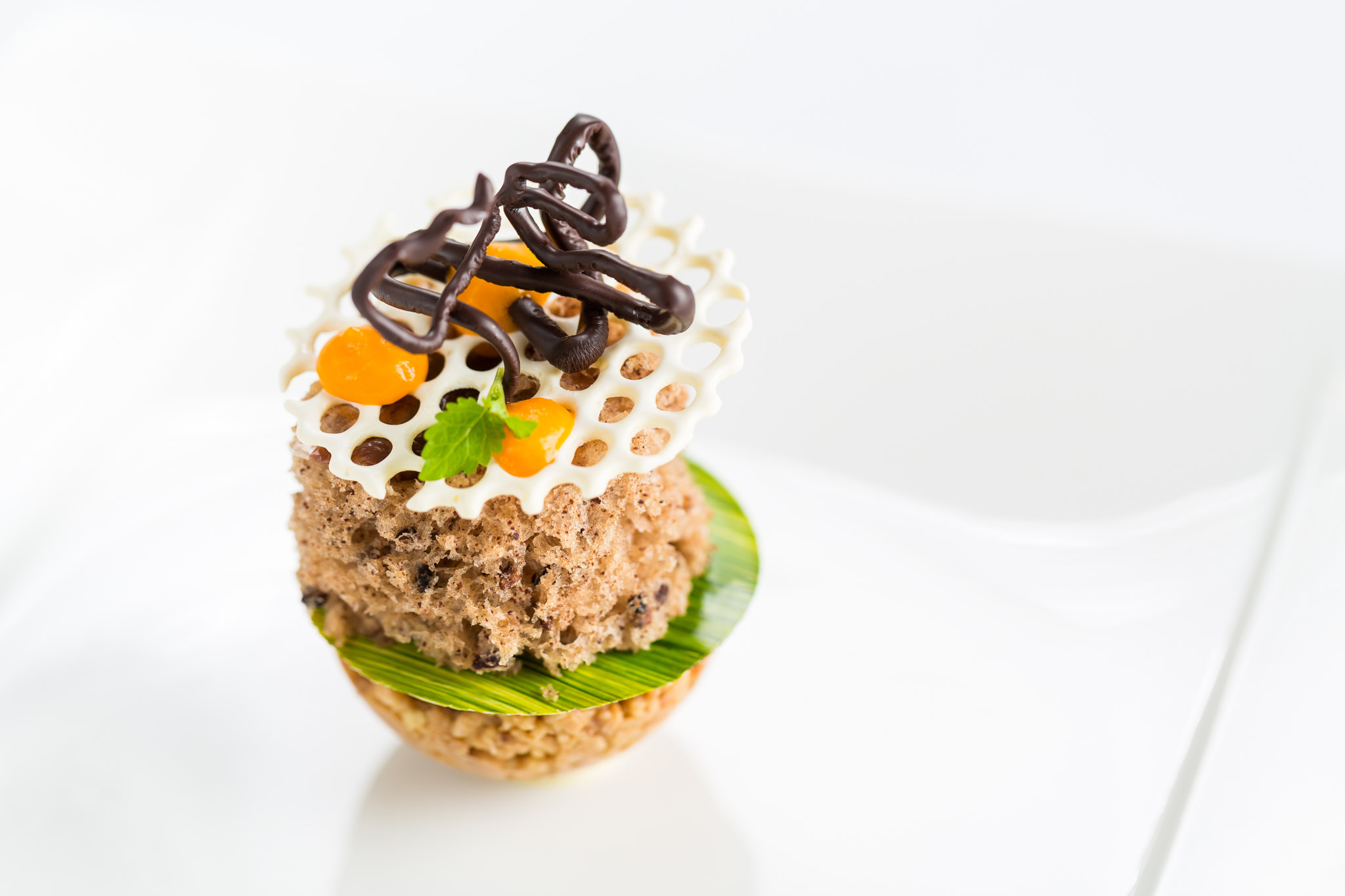 CHOCOLATE BERGAMOT CREMEUX
Ingredients
35% cream 150g
Milk 150g
Bergamot puree 50g
Yolk 40g
Sugar 60g
Salt 2g
Haiti  65% dark chocolate 180g
Preparation
1. Boil cream, milk and puree with some sugar.
2. Mix yolk with left over sugar.
3. Temper yolk mixture with cream mixture then cook until 85C.
4. Melt the chocolate by crème anglaise.
5. Emulsion by hand mixer Cool it down in fridge
SEA BUCKTHORN BERRY JELLY & GEL
Ingredients
Sea buckthorn berry juice 172g
Sugar 32g
NH pectin 4g
Mango 10g
Preparation
1. Dice a mango into mini dices, portion it into 11 half sphere slicone mould, set aside.
2. Combine sugar & pectin.
3. Boil puree, whisk in the pectin mixture, cook until boíl again.
4. Pour the mixture into half sphere slicone mould.
5. Rest of mixture pour it into container
6. Let both set in fridge. Puree the jelly that in the container until gel  consistency.
Ingredients
Short bread crumble 138g
Feuilletine 8g
Puff rice 8g
Hazelnut almond praline  18g
Blanc satine chocolate 36g
Cocoa butter 15g
Preparation
1. Chocolate melt with cocoa butter, mix with praliné.
2. Combine all dry in the bowl, mix it with chocolate mixture
3. Portion it 17g in each mould , then form a shell.
4. Let it set in fridge
COCOA NIBS MICROWAVE SPONGE
Ingredients
Milk 190g
Canola oil 110g
Egg white 105g
Egg yolk 18g
Sugar 190g
Pastry flour 105g
Salt 5g
Roasted cocoa nibs  50g
Extra cocoa nibs for sprinkle
Preparation
1. Prepare 11 expresso cup with 3 hole at the bottom. Set aside
2. Blend all ingredient by vitamix, then strain it.
3. Pour the mixture in 1 liter size ISI gun with 3 cream charge. Rest in fridge overnight.
4. Fill 17g sponge mixture in expresso cup, sprinkle cocoa nibs and mix.
5. Cook the sponge 20 second with full power by microwave.
Unmold the sponge when it cool down.
Ingredients
Ghana milk chocolate 100g
35% cream 100g
Salt 1g
Preparation
1. Heat up cream and salt.
2. Mix the chocolate and cream until combine.
- Fill the cremeux in the crust.
- Place the Jelly in the center of the cremeux.
- Place chocolate ring decoration on top of the crust.
- Place sponge on the ring.
- Place a edible film in the center of the sponge & fill with chocolate sauce.
- Place chocolate grid disc on the sponge
- Pipe the gel, place chocolate branch decoration and wild bergamot cress on the grid disc