Pastry of the day
By MICHAŁ IWANIUK
Country : Poland
Category : Pastry of the day
Number of portions :  18
Bison grass chantilly
Shortbread
Sponge
Coffee daquis
Salted caramel ganache
Cowberry Jam
Montage / Assembly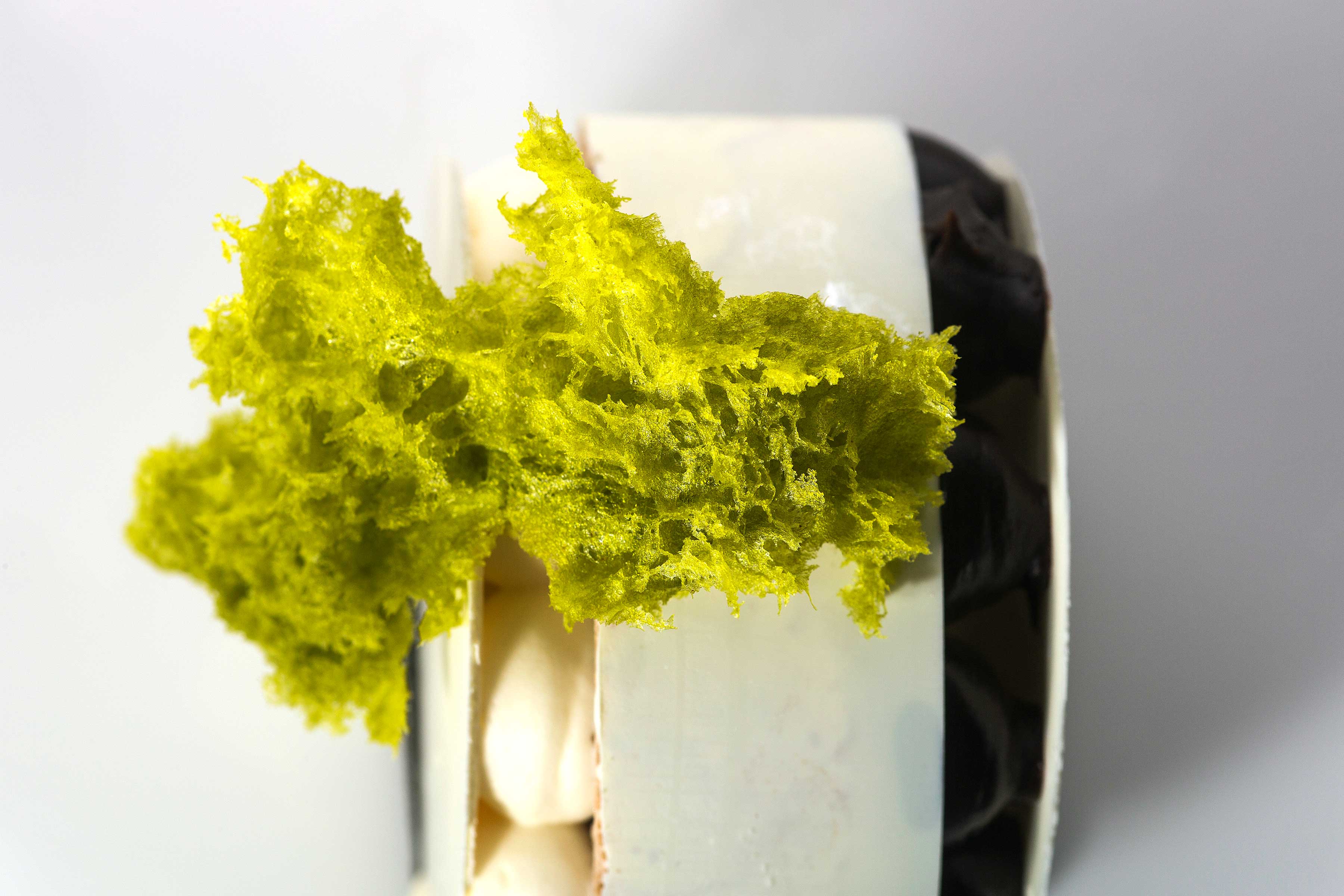 Ingredients
250g Cream  #1
250g Cream #2
150g Zephyr chocolate
3g Bison grass
4g Gelatin
Preparation
Infuse cream #1 with bison grass for 24h
Boil cream and add chocolate with soaked gelatin.
Add cream#2 and cool down.
Whip.
Ingredients
125g Wheat flour
40g Cocoa
20g Castres sugar
0,5g Baking soda
105g Butter
2g Salt
Preparation
Mix butter with sugar and add dry ingredients.
Roll out to 2 mm and froze.
Cut into plates.
Ingredients
70g Sugar
80g Water
50g Ocoa chocolate
200g Eggs
10g Pistachio paste
Green coloring
Baking powder
Preparation
Mix all ingredients and pour into a siphon.
Put 2 cartridges.
Fill 2 plastic cups, bake in microwave for 45s.
Ingredients
170g Whites
150g Caster sugar
150g Sugar
30g Brazil Nut Flour
130g Almond flour
30g Nibs flour                               
2g coffee
50g Wheat flour
Preparation
Make a meringue.
Mix with dry ingredients.
Bake at 180 ˚C
Ingredients
15g Cocoa
150g Cream
80g Sugar
30g Buckwheat honey
1g Salt
40g PNP
150g Lactee Carmel chocolate
80g Ocoa chocolate
130g Butter
Preparation
Caramelize sugar, add honey, pour cream and add salt.
Pour onto chocolate and PNP paste.
At 37 ˚C add butter and blend.
Ingredients
200g Frozen cowberry
100g Sugar
3g Pectin NH
2 drops of Orchid extract
Preparation
Sugar mix with pectin and add cowberry.
Boil, mix and add extract.
- Each cake cut in the middle, spread with jam and join together.
- Cool down.
- Carrot cake finish with dark chocolate and parsley with white.