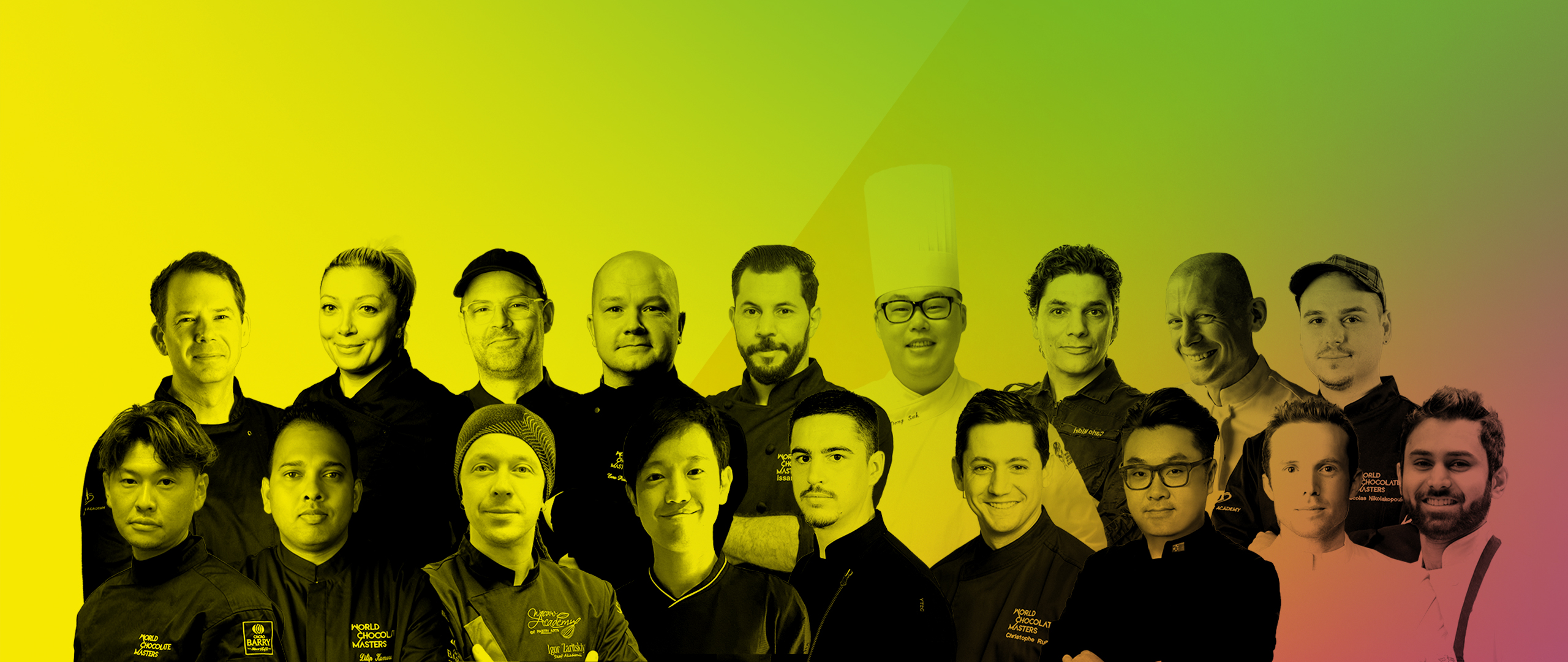 WORLD CHOCOLATE MASTERS FINALS BRINGS THE FUTURE OF CHOCOLATE TO SALON DU CHOCOLAT PARIS

Press release
21 April 2022, Paris. Once again, the eyes of chocolate lovers around the world will be on Paris. From October 29 to October 31, Salon du Chocolat will host the World Finals of the World Chocolate Masters. This is the world cup for chocolate craft - an initiative of Cacao Barry to advance creative chocolate artisanship and put new talent on the map. 18 countries have sent their absolute best, from the United States to China, all to claim the prestigious title of World Chocolate Master.
This edition's theme? What #TMRW_TASTES_LOOKS_FEELS_LIKE, challenging the world's finest chocolate chefs to bring the chocolate of tomorrow in front of our expert jury. "We cannot wait to see what our chefs bring. The competition is fierce, their skill level is extremely high and the pressure on the main stage will be immense. With the whole world watching, we're bound to see the very best in chocolate", explains Ramon Morató, Cacao Barry Creative Director.
#TMRW_TASTES_TASTES_LOOKS_FEELS_LIKE:
A VISION OF WHAT CHOCOLATE CAN BE
This edition's theme focuses on TMRW. Consumer choices radically shift to foods that are healthier, are planet-friendly, offer new taste experiences not compromising on indulgence. Creativity, science and technology help chefs to evolve their offering.
How does this shift translate to the chocolate gastronomy of TMRW? The contestants need to present a clear vision, amazingly tasty creations and check all TMRW's boxes.
"Today's consumers choose to celebrate the world with one big optimistic shout-out: they live life as if the party could be over at any time. They are ready and eager to impact the world and make it better for everyone – and to change it here and now. Through science, technology and design. An explosion of fresh and sustainable ideas – bold colours, flavours, textures and an unprecedented belief in the future. But what does that taste, look and feel like? That's what our chefs are tasked with."
Ramon Morató, Cacao Barry Creative Director
ON A MISSION TO EXPRESS YOUR TRUE NATURE
The 8th edition of the World Chocolate Masters – an initiative of French premium chocolate couverture maker Cacao Barry – is a unique platform for artisan chocolatiers, pâtissiers and chefs from the world over to surpass their limits and express their true nature.
"Cacao Barry is celebrating its 180 anniversary this year", explains Andrea Doucet Donida, Cacao Barry Global Brand Leader, adding: "What better way to do this than by celebrating this momentous milestone in its home town of Paris together with the best of the new generation of chefs looking towards the future? Empowering all chefs, from Master chefs to the next generation to engage fully to reach their vision, to express their true nature, is what the brand and our team purpose is everyday. The World Chocolate Masters is that unique moment where these talents can really shine and help shape the future of chocolate".
THE 18 BEST CHOCOLATE CHEFS
Chefs from all over the world are ready to battle it out at the Salon du Chocolat in Paris. All countries have selected their finalists after gruelling qualifying rounds which tested skill, determination. The participating countries are:
• Belgium – Togo Matsuda
• Canada – Nishant Amin
• China – Jacky Lung
• Finland – Eero Paulamäki (representing Nordics)
• France – Antoine Carréric
• Greece – Nicolas Nikolakopoulos (representing Southeast Europe)
• Hungary – Attila Menyhárt
• Italy – Anna Gerasi
• Japan – Jiro Tanaka
• Korea – Dongusk Kim
• Morocco – Issam Tajer (representing North Africa)
• Poland – Igor Zaritskyi
• Spain – Lluc Crusellas
• Switzerland – Abraham Balaguer
• The Netherlands – Carlo Midiri
• UAE – Dilip Kumara (representing Middle East)
• UK – Stephen Trigg (representing UK & Ireland)
• USA – Christophe Rull
 
"The level of skill this edition is extremely high. We're truly seeing the best chocolate has to offer among our contestants", says Naomi Wahl, World Chocolate Masters Committee chef. "Personally, I believe we'll see some of the world's most awe-inspiring and imaginative chocolate creations this year."
WCM Bootcamp 2022
From April 25 to 26, all 18 finalists will meet for the first time in Barcelona for an all immersive 2-day bootcamp. They'll receive their briefings for the final, get to join interactive workshops around plant-based patisserie and flavour pairings and see their 3D chocolate designs come to life.
Explorers of cacao flavor excellence and protectors of its diversity since 1842, we share the whole cacaofruit flavor experience, from nature to plate, with farmers and chefs.
A favorite among creative chefs in more than 90 countries, Cacao Barry, rooted in its French pastry heritage, offers a wide variety of fine flavor chocolates which cacaofruits and beans are carefully selected from exceptional plantations in Latin America, Africa and Asia.
Fostering strong stimulating international chef communities is at the heart of Cacao Barry efforts to bring motivating inspirations to chefs, supported by their influential Ambassador network and the 26 Chocolate Academy centers around the world. Cacao Barry is committed to a responsible and sustainable future, with the goal to offer 100% sustainable chocolates by 2025. It already reached the milestone to have 100% sustainably sourced beans in 2020 and is the first chocolate brand to partner with the Bee friendly label for all its almond based products. In 2022, Evocao™ WholeFruit chocolate after receiving the Best Artisan Innovation Award, is also the first chocolate couverture in the world to be Upcycled certified by the Upcycled Food Association, leading the way in sustainable, good for you, the planet and its people chocolate.
Thanks to its Thriving nature commitment, Cacao Barry aims to ensure sustainable growth of the chocolate sector through a movement that includes farmers, civil society, industry, governments and chocolate lovers supporting the Cocoa Horizon Program.
Cacao Barry empowers all creative chefs, masters and the next generation, to engage fully, to reach their vision: to express their true nature.
Wednesday, 20 April, 2022